Most fan fictions shall always stay fictional. However, Wyrd has actually come true in RuneScape!
Please do not edit the page to make it accordingly to the real one; stick to the original intention of the article!
This article, Wyrd, was created by Quilafa.

Wyrd
Please add an image!
Members?
Yes
Combat level
333
XP per kill
8,750 (and 2,887.5 experience)
Examine text
A deadly, mutated and corrupted vyre-like beast.
Expected profit per kill
Slayer info
Slayer level
97
Slayer XP
3,333
Assigned by
Unknown edit

Combat stats
LP
Max hit
100,000
Melee
3,000
Ranged
1,000 (fast)
Magic
5,000 (dot)
7,000 (bloodlust)
Attack
Defence
Ranged
Magic
90
90
90
90
Other
Immune to Poison?
Immune to Stun?
Yes
Yes
Attack Speed

Speed varies (Interval: random)

Aggressive?
Poisonous?
Yes
Yes
Attack styles
Melee
Ranged
Magic

Blisterwood weapons

[view]
Wyrds are dangerous, bestial, vyre monsters. Where Venators are the primal, devolved versions of vyres, these are mutated and corrupted. They are larger than a normal vyre and have a more animalistic appearance, spikes all over their back, two large wings, large poisonous talons, a deadly tail and dreadful eyes. The Black Prince was known to be able to create the first wyrd in a hidden room of the Meiyerditch Laboratories, and even managed to control it using a telepathic bond. He used the wyrd to attack Misthalin. Eventually the wyrd was killed by Sulla and four mercenaries and he lost control over it. He recreated an army of them hoping they would serve him as champions for the second Battle of the Salve, however he couldn't control them anymore, as the death of the first wyrd damaged his absolute control. Realising they were useless, he brought blood tithe slaves and laboratory researchers into the hidden room and sealed them off using dark magic.
The Wyrd has a desire for blood and has a "bloodlust bar" above it. If it is full, the Wyrd will suck blood out of the player who fights it, dealing high damage, lowering Defence and healing the wyrd by 100% of the damage done. The only way to stop this is to distract it by using either a blood spell (the higher the better), Blood Tendrils or Bakriminel bolts (Bloodwood bolts) on it. Note that if you only use these items, the distraction will become less accurate and might fail, so try using these as a secondary item.
Around the Wyrd the bodies of the ones who fell victim to its strong poison are found. Sometimes one becomes green and a poison gas cloud comes out of it, standing inside one of these does rapidly damage. You can click on a body when it becomes green to bless it, awarding a small amount of Prayer experience, but lowers your prayer points with 500 points. Sometimes the Wyrd's eyes will glow and one of the bodies will stand up and attack you, up to a maximum of four can be summoned by one wyrd. The animated body can hit up to 2,000 (although Protect from Melee will lower it to max 500) and only have 1,000 lp so it's recommended to kill them quickly. You can also keep them alive as when the Wyrd's "bloodlust bar" is full, it might pick an animated body, if one is present, instead of the player and due to the animated body being highly poisonous, the Wyrd will get damaged with up to 2,000 hp and its defence stat will be lowered.
The Wyrd spreads its wings and charges onto his victim, does high melee damage, pushes the player up to 5 places back and stuns the player for 10 seconds (although you can break free with Freedom). This attack can be avoided.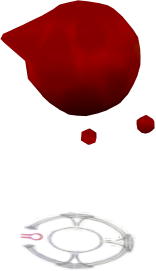 When the wyrd reaches 1/5th of its life points for the first time, the Wyrd will turn 4 bodies into blood pools and becomes invulnerable. You can cleanse the blood pools with
holy water
, in 20 seconds, the wyrd will devour all 4 pools. It will heal 5,000 per pool, and will get damaged with 5,000 per cleansed pool. If you have all 4 pools cleansed, the Wyrd will be instakilled.
The Wyrd has a incredibly strong poison, once infected it will be hitting around 1,000-2,000 every 10 seconds and will lower your offensive stats (or in case you use an overload, it will take away some of its duration). To lower the poison damage and to remove the stat lowering, you can make an anti-wyrd-poison, with 95 Herblore. You will need to use holy water on vampyre dust and then add these to an Antipoison++ (3) to make an anti-wyrd-poison. This will lower the damage with 1,000. If you don't have the level required to make anti-wyrd-poison, you can also instead use any regular antipoison potion as a substitute, which will lower the damage with around 500 but your stats will still be lowered.
Slayer Tower

Crawling hand • Banshee • Infernal Mage (Elite) • Bloodveld • Aberrant spectre • Gargoyle • Nechryael (Elite) • Abyssal demon (Elite)

Fremennik Slayer Dungeon

Cave crawler • Rockslug • Cockatrice • Pyrefiend • Basilisk • Jelly • Turoth • Kurask • Aquanite (Elite) • Giant Aquanite

Lumbridge Swamp Caves
Poison Waste Slayer Dungeon
Dorgesh-Kaan South Dungeon

Molanisk • Cave bug • Cave crawler • Cave slime • Rockslug

Pollnivneach Slayer Dungeon

Banshee (Mighty) • Cave crawler (Monstrous) • Basilisk (Boss) • Turoth (Mightiest) (Swarming) • Kurask (Overlord) (Minion) • Aberrant spectre

Meiyerditch Dungeon
God Wars Dungeon

Pyrefiend • Bloodveld • Spiritual ranger • Spiritual warrior • Spiritual mage

Jadinko Lair

Mutated jadinko baby • Mutated jadinko guard • Mutated jadinko male

Polypore Dungeon

Grifolaroo • Grifolapine • Ganodermic runt • Ganodermic beast

Taverley Slayer Dungeon
Monastery of Ascension
Guthix's Cave
Daemonheim

Crawling hand • Cave crawler • Cave slime • Pyrefiend • Night spider • Jelly • Spiritual guardian • Seeker • Nechryael • Edimmu • Soulgazer

Sophanem Slayer Dungeon

Corrupted scorpion • Corrupted scarab • Corrupted lizard • Corrupted dust devil • Corrupted kalphite guardian • Corrupted kalphite marauder • Corrupted worker • Salawa akh • Feline akh • Scarab akh • Crocodile akh • Gorilla akh • Imperial warrior akh • Imperial ranger akh • Imperial mage akh • The Magister

The Lost Grove
Guthix's altar
Deep Monastery of Ascension

Forte gladius • Forte Capsarius • Forte Scutarius • Supremus • Barathius

Other

Zholihai • Desert Lizard • Clay dragon • Mogre • Harpie bugs swarm (Elite) • Killerwatt • Terror dog • Fever spider • Brine rat • Sea custodian • Granite dragon • Mutated zygomite • Cave horror (Elite) • Jinxiao beast • 'Rum'-pumped crab • Dust devil (Elite) • TzHaar-Hur-Bol • Skeletal Wyvern • Jungle strykewyrm • Manticore • Desert strykewyrm • Rotten dryad • Chupacabra • Fiendlord • Inferno dragon • Rune dragon • Empowered rune dragon • Wilderness Berserker • Dark beast (Elite) • Edimmu (Elite) • Giant cobra • Torva dragon • Ice strykewyrm • Airut • Nightmare • Lava strykewyrm • Acolytes of Seiryu • Acolytes of Seiryu • Acolytes of Seiryu (Arhat) • Dragonstone dragon • Acheron mammoth • Camel Warrior • Ripper Demon (Slasher Demon) • Wyvern (Elite) • Death strykewyrm • Onyx dragon • Blessed spectre • Terra Wyvern • Gray dragon • Magma strykewyrm • Phantom dragon • Hydrix dragon • Crystal strykewyrm • Dragonite dragon • Barrows dragon • Crystal dragon

Special

Bork • Skeletal horror • Phoenix • Death Phoenix • Wild jade vine • Grand Ork • Jatanai Protiex • Ore protector
Ad blocker interference detected!
Wikia is a free-to-use site that makes money from advertising. We have a modified experience for viewers using ad blockers

Wikia is not accessible if you've made further modifications. Remove the custom ad blocker rule(s) and the page will load as expected.