This article, The Alone Ones, is the creative property of ToaBionicle.
The Angeror Fanatics Society (TAFS)
Also called?
The Alone Ones
Members only?
Yes
Size
Unknown, at least 5 members
Location
Unknown
Requirements
Loving Angeror
Insignia
An inverted coloured demon
TAFS was created in the year after Souls of the Damned, when the curse of Angeror first took effects. His energies created creatures which were a combination of elementals. They found out that if they can reopen the void in a period of time, then their master can be restored to a physical form. This forms the basics of Revenge of the Alone Ones.

Traptra is the leader of the group. He is usually in charge of all the operations, and has such great power that he turned Iemoion into his current form.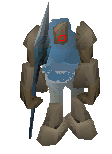 Glom is the team's main bulk. he is often mistreated by the other members, and is always being hypnotised by Iemoion.
Iemoion was once a normal fire elemental, until Angeror's energies fused him with a nearby earth elemental. He is the only custom-made Alone One, all the others were automatically formed by the energies (with the exception of Melissa), and he seems to be the weakest. Iemoion relies on his hypnotizing skills to help him. He was morphed into his "fire wave" form when he disrespected Traptra.
(eye-emo-iron)

Melissa was once a young girl from Yanille. When Angeror sent his curse, she was searching a cave, the very cave that would become their base. She was made into an air/water combo, and has since took this in her stride, being more agile and quick than the others.
Argoyle is the smallest member of the group, and goes on most of the speed missions with Melissa. He discovers the paradox timeline allowing Angeror to take physical form.
See also
Edit