Insta-kill
Members
Yes
Quest item
It's time to kill...It's time to Insta-Kill!
Tradeable
Yes
Equipable
No
Stackable
No
High alch
5 coins
Low alch
2 coins
Destroy
Drop
On death
Unknown edit
Store price
6 coins

Exchange price
174,132 coins
Examine
Hmmm... "May cause kidney trouble"
Weight
0.3 kg
Insta-kill is a bottle with Instant killing poison, that looks like poison, but isn't. To use this you must complete It's time to kill...It's time to Insta-Kill! quest. Even though it's puny General Store value at 6 coins, it could be worth up to 200,000 coins in the streets.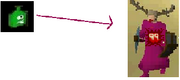 Ad blocker interference detected!
Wikia is a free-to-use site that makes money from advertising. We have a modified experience for viewers using ad blockers

Wikia is not accessible if you've made further modifications. Remove the custom ad blocker rule(s) and the page will load as expected.