This article, Alliance of Similar Wildernessans, is the creative property of Chiafriend12.
Alliance of Similar Wildernessans
Also called?
AoSW, Alliance
Members only?
N/A
Size
200,000 soldiers
Location
Wilderness
Requirements
Living in the Wilderness
Insignia
Full gold robes for mages, full green robes for rangers, full gray robes for meleers, and Gilded armour for field officers.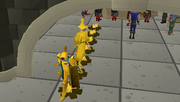 Similar to the United Karamjan Tribes, the Alliance of Similar Wildernessans was a temporary banding together smaller factions. The Alliance of Similar Wildernessans was made up of people who lived in the Wilderness with the intent of taking Asgarnia and Misthalin} by force.
After the Wilderness Wars, they were disbanded, since being under control of the Kingdom of Golathia.
Ad blocker interference detected!
Wikia is a free-to-use site that makes money from advertising. We have a modified experience for viewers using ad blockers

Wikia is not accessible if you've made further modifications. Remove the custom ad blocker rule(s) and the page will load as expected.